Through my years of spotting and writing about old cars, there have been certain vehicles that stand out to me more than others: partly due to its rarity, uniqueness and the setting that I saw it. I still remember that back in 2019, I was made aware of an impromptu display at the official Subaru dealership (though I cannot remember what it was for). Apart from the top-of-the line Subaru S models (S208, S207 and S206), there was the SVX which I wrote about previously, and this 1986 Subaru XT GL which I had no idea existed until then!

First appearing at the 1985 Detroit Motor Show, it received much attention due to its extreme wedge-shaped exterior. Extensive wind tunnel testing further lowered its drag coefficient to 0.29, making it one of the most aerodynamic vehicles of its time. Many features such as a tilt angle of the front and rear windows of 28 degrees, flat bottom underfloor, retractable door handles, pop-up headlights and rubber spoilers in front of each wheel contributed to its success in aerodynamics. As a nod to the aircraft division of Subaru's parent company, Fuji Heavy Industries, the interior featured a joystick-shaped shifter, pod-mounted controls for lighting and wipers and a striking L-shaped steering wheel.
It was launched as the Alcyone in Japan (named after the brightest star in the Pleiades star cluster and the inspiration for Subaru's logo), the XT in North America and the Vortex in Australia/New Zealand. The North American market XT was sold in three models: the base-model DL, the better-equipped GL, and the top-of-the-range GL-10. Initially, only a 1781 cc H4 engine was available (in turbo and non-turbo guises). In mid-1987, the XT underwent a facelift with revised front and rear bumpers, along with the reverse lights being incorporated in the centre taillight panel. A larger 2672 cc H6 engine was also made available, known as the XT6. Full-time 4-wheel drive was also introduced solely for the XT6 variant.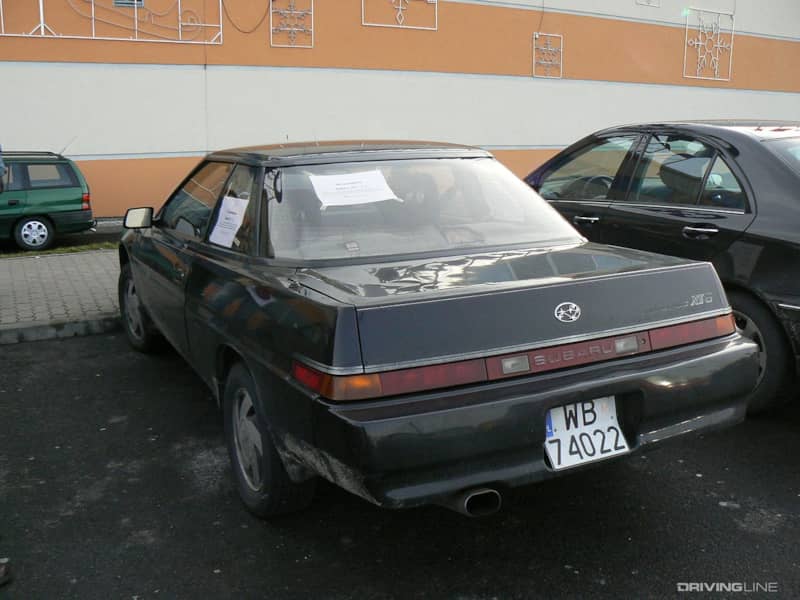 The pre-facelift (left) and post-facelift (right)

While the XT was primarily aimed for the export market, it was noted that the appreciation of the yen during that time made it unappealing. Coupled with the 'eccentric' design, it was unable to compete with other sport coupes and sales were sluggish from the time of its release. The XT was powered by a EA82T 1781 cc turbocharged H4 engine, allowing it to reach a top speed of 200 km/h with an acceleration of 8.5 seconds [0-100 km/h]. It had dimensions of 4450 x 1690 x 1335 mm and weighed in at 1165 kg, with a fuel consumption of 8.5 litres / 100 km.
Production of the XT ended in 1991 with 98,918 made in total. While it was available only as a 2-door coupe, there was a one-off convertible made known as the Ficce Special: unfortunately it is last known to be in a run-down state. The facelifted XT Turbo 4WD was sold in Singapore in 1988 by Motorimage (who is still the Subaru dealer today). However, none are known to be left: this particular unit was imported from the US and subject to a ground-up restoration, where it currently remains in Motorimage's collection.
XTs tend to remain as a forgotten child, in spite of its revolutionary looks. Coupled with the relative lack of know-how, they do not tend to get the love that it deserves. While I am not sure if this XT will ever appear again, at least you would know of its existence here so far from home!